Fountain Hills Theater announces the opening of the new musical comedy, 4 on the Floor. This production will be presented in their brand-new outdoor theater, just steps outside their indoor theater spaces. All performances take place on the Showmobile Stage provided courtesy of Kern Entertainment. The new outdoor theater setup provides reserved chair seating in socially distanced groups under twinkling outdoor lights. A limited number of parking spots with a view of the stage will also be made available, for those uncomfortable sitting outside. Local mandates and CDC guidelines will be in effect, for the safety of all patrons.
Four auto mechanics in 1969 want to become a rock and roll band, but all they know is cars, chrome, and chicks! Well, they say sing what you know! While the boys spend their days repairing and singing about cars and dreaming about their calendar girls, this high energy tribute musical features some of the best rock and roll car songs of all time including 409, Hey, Little Cobra, Hot Rod Lincoln, Little Old Lady from Pasadena, and many, many more.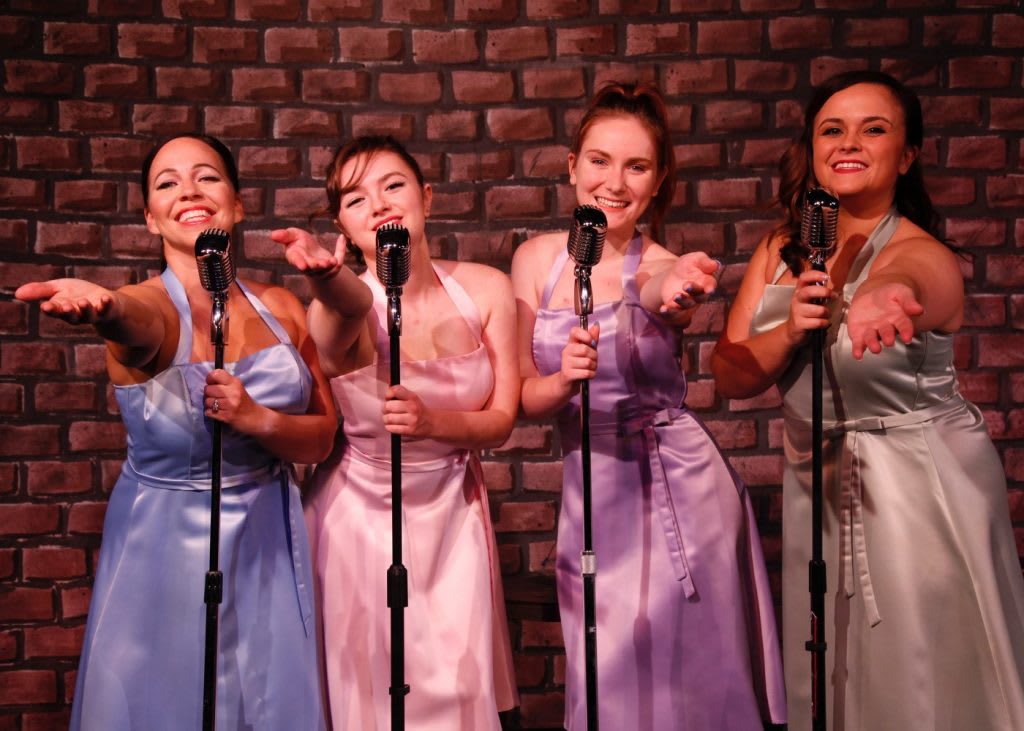 Author and Director Peter J. Hill was listening to an NPR report about popular American music. As expected, the number one subject of American music is love. Number two was cars! This is unique in the world. Surely, Hill thought, there must be a musical revue that featured the American Hot Rod songbook, but to his surprise, there was not. Setting the story in 1969, he created a tribute show that hits on all cylinders of the big hot rod songs of the '50s and '60s but also includes little known car songs like Under the Wrench, Grandpa's Advice, One Piece at a Time, and The Duct Tape Madrigal.
4 on the Floor is directed by Peter J. Hill, choreographed by Noel Irick, and musically directed by Jennifer Adams. 4 on the Floor stars Ben Alker, Raelyn Burkhart, Megan Farinella, Brian Hoffman, Henry Male, Jeremiah Power, Fallon Smith, Kori Stearns, and William Wadsworth.
4 on the Floor
will play November 13 -22, 2020. Performances are Fridays & Saturdays at 7:30PM and Sundays at 2:00PM. Individual tickets are $35.00 for adults and $18.00 for youth 17 and under. Group, Veteran & Active Duty discounts available. All performances are at Fountain Hills Theater on its Outdoor Stage at 11445 N. Saguaro Blvd. (The Corner of Saguaro and Rand). Tickets are available through the Theater Box Office at (480) 837-9661 x.3 or by visiting
https://fhtaz.org/events/4-on-the-floor/
. Box Office Hours are 12:00PM-2:00 PM Tuesday through Saturday.
Seating will be available on 'The Lawn' in front of the stage. The theater will practice socially distanced seating. Masks will be required for all attendees and staff. Patrons who request a stage viewable parking spot may remain in their cars or sit outside their cars and 'tailgate' All patrons are encouraged to purchase tickets in advance for a "contact-free" experience while you're at the show. Seating is limited and patrons will be given their seat assignments at the event.