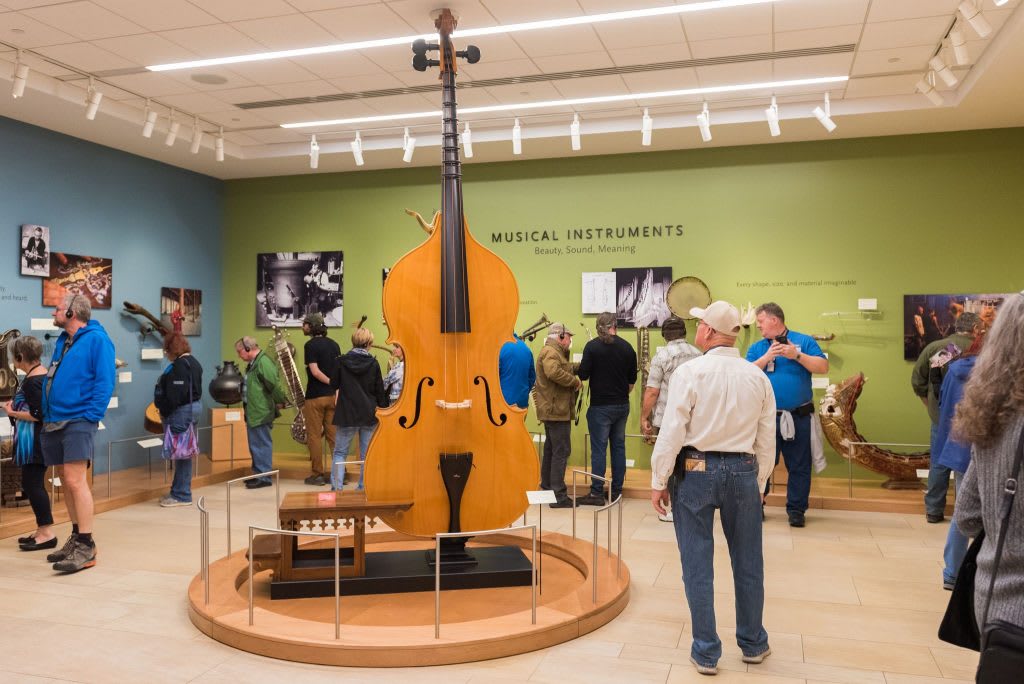 A visit to the Musical Instrument Museum is more than just a stroll among interesting instruments from around the world. It is an experience that is enriching, inspiring, fascinating, and just plain fun.
MIM's founder Bob Ulrich (then CEO of Target Corporation) was inspired to develop a new kind of museum that focused on the kind of instruments played every day by people worldwide. Today, the collection has over 8,000 instruments from more than 200 countries.
In the five Geographic Galleries, guests can see, hear, and experience musical traditions from every corner of the globe. These galleries focus on the major world regions of Africa, the Middle East, Asia and Oceania, Latin America, Europe, and the United States and Canada. Many of the instruments are rare and the finest of their kind. Many are historically significant and are part of distinctive musical cultures.
You will don a museum-issued headset, and as you approach video monitors in the various exhibit spaces, the videos begin to play footage of musical performances that show instruments played in their original contexts. The video combined with the sounds of the music transports you to other cultures and their unique styles of music and dance.
When you finish your tour of the museum, you will feel an appreciation of diverse cultures and the craftsmanship and traditions of instrument makers from the past to the present. Your sensory experience will pull on your emotions in ways you may not expect.
In addition to MIM's regular museum exhibits, you can attend a wide range of concerts in their beautiful concert hall throughout the year. MIM also offers classes for children up to age 10, field trips for school groups, and a STEM video collection for educators.
Be sure to check out the oldest instrument in the museum: a
paigu
goblet drum. It dates to China's Neolithic period and is estimated to have been created between 5000 and 4000 BCE. The drumhead may have been made of snake or frog skin. For more information about the museum, visit
mim.org
.