February 14th is most often celebrated nationwide as Valentine's Day, a day of love, romance, and chocolate. But, if you're single and you live in Arizona, February 14th probably just means one thing to you: Arizona's birthday.
This coincidence goes mostly unnoticed today, but 110 years ago, it was at the forefront of the public mind. In fact, Arizona's nickname was widely considered "The Valentine State" for a few years before it became "The Grand Canyon State" that we know and love today. How did this happen, and what changed?
Arizona's Not-So-Romantic Quest for Statehood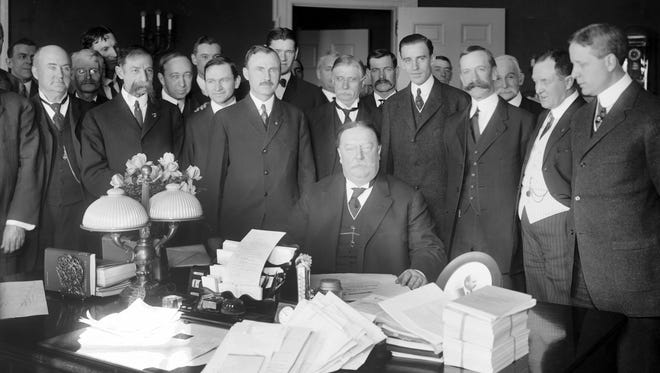 Arizona Territory thought it was ready for statehood for decades before the federal government finally agreed to let them in. They had the population to apply for statehood as of the 1900 census, and they would have had the population earlier had they not had their borders changed in 1867. The U.S. Senate
denied their statehood back in 1902
, for reasons including, but not limited to, the lack of order in the state. Then the idea occurred to the U.S. Senate to merge Arizona and New Mexico into a single, huge state. This idea made it surprisingly far, before being soundly rejected in an
Arizona referendum in 190

6
.
In 1912, President William Howard Taft and Congress were finally ready to allow both Arizona and New Mexico into the Union as separate states. New Mexico entered the union in January of 1912, and Arizona's entry was slated for February 12th, 1912. The Republican government of Arizona at the time wanted Arizona's state birthday to line up with Abraham Lincoln's birthday.
When the day finally came, President Taft and the Arizona delegation to Washington were both delayed for various reasons. Taft thought the procedure would "take five minutes" so his advisors
scheduled a meeting for him in New York
, which took longer than expected. Taft finally signed for Arizona's statehood on February 14th, which just happened to be Valentine's Day.
People were very aware of this, and for the first few years of its statehood, "The Valentine State" was one of Arizona's most popular nicknames. Other nicknames included "The Copper State," "The Apache State," "The Sunset State," "The Italy of America," and finally, "The Grand Canyon State." By the time Grand Canyon National Park was created in 1919, "
The Grand Canyon State" was definitively the winner
.
Nowadays, you won't see anything about Valentine's Day on the Arizona Quarter. But don't forget that the most romantic day of the year is also the birthday of the best state in the country!
If you're interested in living in Arizona, Fountain Hills has the motto "All That Is Arizona" for a reason!
Click here
to see listings you'll fall in love with!