In the ever-evolving world of real estate, the Sonoran Lifestyle Team at Re/MAX Sun Properties in Fountain Hills, AZ, is always at the forefront of sales strategies and marketing concepts. Today, we're excited to share a game-changing trend that is simplifying the home selling and buying process: offering homes fully furnished.
Imagine a scenario where sellers can seamlessly include custom pieces and décor that perfectly complement their homes, and buyers can move in with just a toothbrush in hand. It's not a dream; it's the future of real estate.
Why Fully Furnished Homes Make Sense
For Sellers:
Showcase the Full Potential: When sellers choose to include furniture in the sale, they're not just handing over a house; they're presenting a lifestyle. Prospective buyers can instantly visualize how each space can be utilized, creating a stronger emotional connection.
Streamlined Moving Process: Custom pieces that have been specifically chosen for a home can be challenging to relocate. By including them in the sale, sellers eliminate the hassle of moving these unique items.
Competitive Edge: In a competitive market, a fully furnished home can stand out from the rest. It's an attractive option for buyers who want a hassle-free transition into their new home.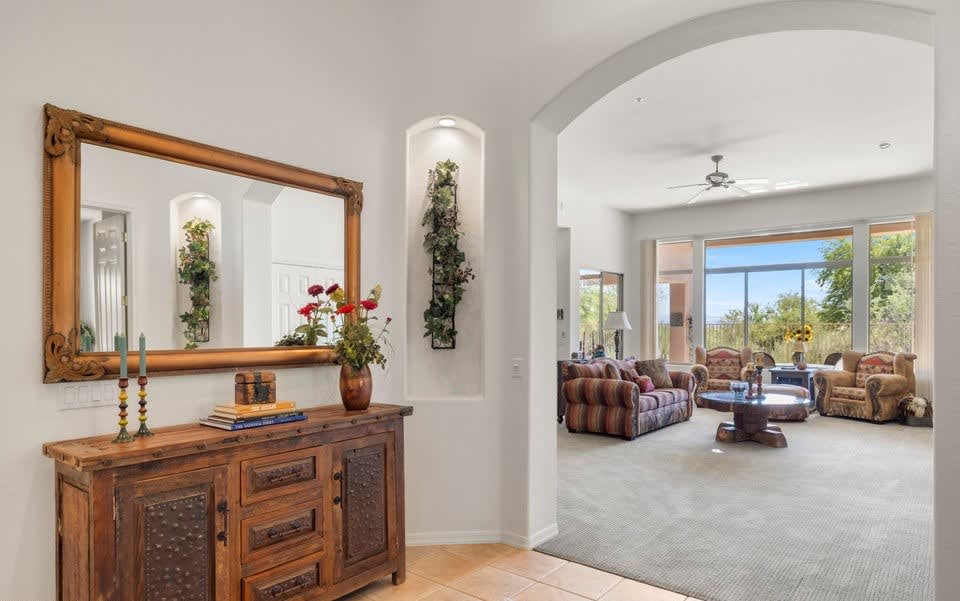 15149 E STAGHORN DR, Fountain Hills, AZ
For Buyers:
Ready to Live: Imagine walking into your new home and finding it already beautifully furnished. You don't have to worry about buying furniture, arranging deliveries, or the stress of an empty house. You can truly just pack a toothbrush and start living.
Cost-Effective: Buying furniture can be a significant expense and can take SO. MUCH. TIME. By purchasing a fully furnished home, buyers can potentially save thousands of dollars upfront.
Instant Comfort: It takes time to make a house feel like a home, but a fully furnished home offers instant comfort. You can start making memories from day one.
How the Sonoran Lifestyle Team Makes it Happen
Our years of expertise and commitment to excellence have led us to embrace this innovative approach to real estate. Here's how we make the magic happen:
Customized Solutions
We work closely with sellers to curate a furniture package that enhances the appeal of their home. Whether it's a stunning dining set, a cozy living room arrangement, or even unique outdoor furniture, we ensure it's a perfect fit.
Professional Staging
Presentation is key in real estate. Our team of experts ensures that each furnished home is staged to perfection, creating an inviting atmosphere that captivates potential buyers.
Concierge Service
From the initial consultation to closing the deal, we provide a seamless experience for both sellers and buyers. Our concierge service handles every detail, ensuring a stress-free transaction.
Join the Furniture-Inclusive Revolution
At the Sonoran Lifestyle Team, we're not just selling homes; we're revolutionizing the real estate experience. By offering fully furnished homes, we're making life easier for sellers and turning the dream of hassle-free homeownership into a reality for buyers.
Are you ready to embrace the future of real estate? Contact us today to learn more about our innovative approach to buying and selling homes. #FurnishedHomes #RealEstateInnovation #SonoranLifestyleTeam