Learn the hottest sport sweeping the community of Fountain Hills! If you're looking to learn pickleball in Fountain Hills we have all the details. The inclusive nature of pickleball creates opportunities for people to connect, make new friends, and enjoy recreational activities together. Pickleball provides a great workout while being less demanding on the body. It combines elements of tennis, badminton, and ping pong, requiring agility, hand-eye coordination, and quick reflexes.
Here are a few places that offer pickleball lessons or have dedicated pickleball courts in the area.
4 Peaks Park
Fountain Hills Park and Recreation Dept: 4 Peaks Park is home to 3 lighted pickleball courts available for public use. They offer lessons for beginners and intermediates throughout the year. Fun evening leagues are offered for all levels of play with multiple sessions to meet everyone's schedules. Experienced instructors who can guide you through the basics of the game and help you improve your skills. Check out the Fountain Hills Park and Rec or join their newsletter for the latest information.
The Beginner League Spring 2023
Golden Eagle Park
Golden Eagle Park is a popular spot for pickleball enthusiasts in Fountain Hills. This is home to the Fountain Hills Pickleball Club with 9 dedicated pickleball courts for their members. You can join the club and learn from experienced players who frequent the courts. The Club offers lessons, a calendar full of events, and organized play at every level. Click Here to learn more.

McDowell Mountain Ranch Park
Just a short drive from Fountain Hills is the McDowell Mountain Ranch Park and Aquatic Center: Located nearby in Scottsdale, McDowell Mountain Ranch Park and Aquatic Center has pickleball courts available for public use. While they may not offer formal lessons, you can visit the park and practice with other pickleball enthusiasts to learn and develop your skills.
Cholla Park
The Cholla Park Pickleball Courts in Scottsdale. The 8 outdoor lighted courts are free to access and play on year-round and offer the perfect place for beginners and recreational players alike. Whether you're an experienced player looking for a great spot to hone your skills, or just getting started with the sport –
Cholla Park
is worth a visit.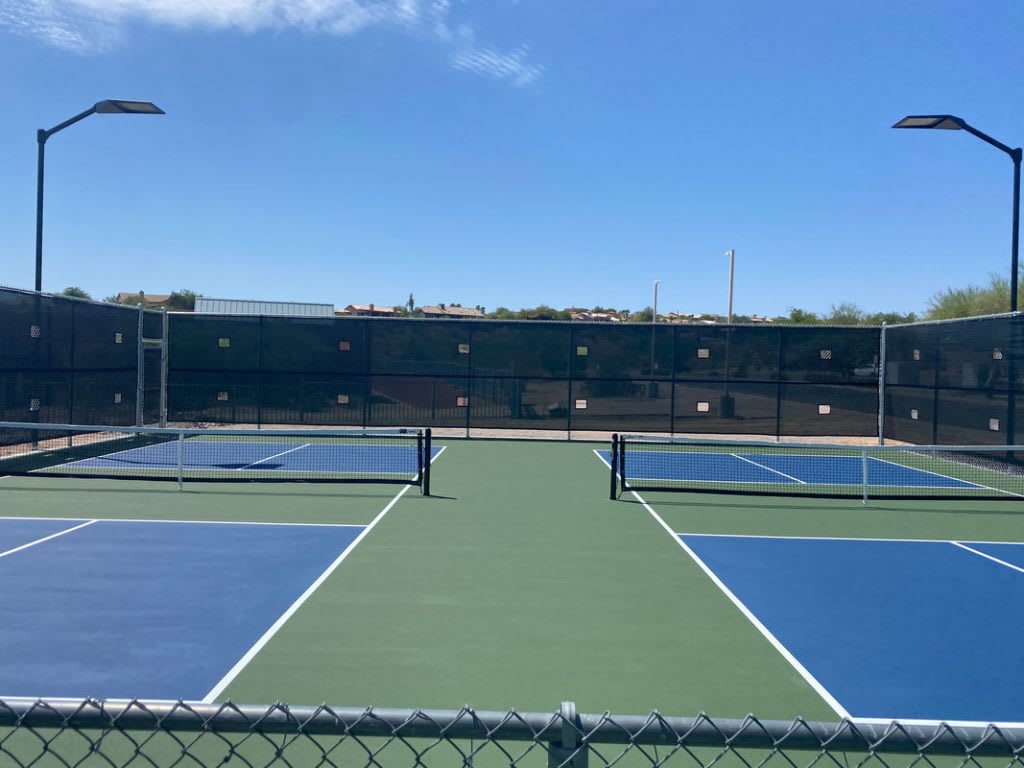 Remember to contact these places directly or visit their websites for more information on lesson schedules, availability, and any fees that may be associated with lessons or courts.