Are you looking for a chance to escape the heat for a weekend? A camping trip is a great way to connect with nature, relax under some cool pines, and enjoy some stargazing under beautiful night skies. You cannot go wrong with any of these six great campgrounds across the northern part of our state.
1- LYNX LAKE: Prescott
The mild weather and cool ponderosa pine forest at this 55-acre lake makes this a great summer getaway. Enjoy trout fishing, boat rentals, mountain biking, gold panning, archaeological sites, and bird watching. Located just a few minutes south of Prescott.
2- CAVE SPRINGS CAMPGROUND: Sedona
Located in the scenic Oak Creek Canyon, you will love this heavily wooded, lush riparian zone. Many campsites are located on the banks of Oak Creek with its crystal clear, cool water. Enjoy hiking, bird watching, and fishing. Slide Rock State Park is nearby. Located just 12 miles north of Sedona.
3- LOCKET MEADOW: Flagstaff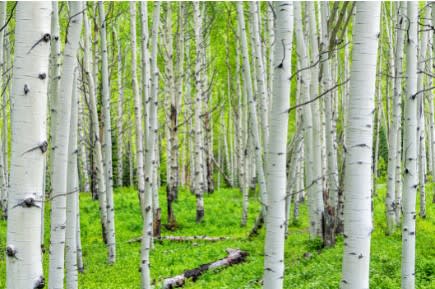 This primitive campground in the San Francisco Peaks is first come first served and it fills up fast. Camp under the cool aspen trees and hike the popular Inner Basin Trail into the heart of an ancient volcano. The drive to the campground is not for the faint of heart. A high-clearance vehicle is recommended. Located 21 miles north of Flagstaff.
4- NORTH RIM CAMPGROUND: Grand Canyon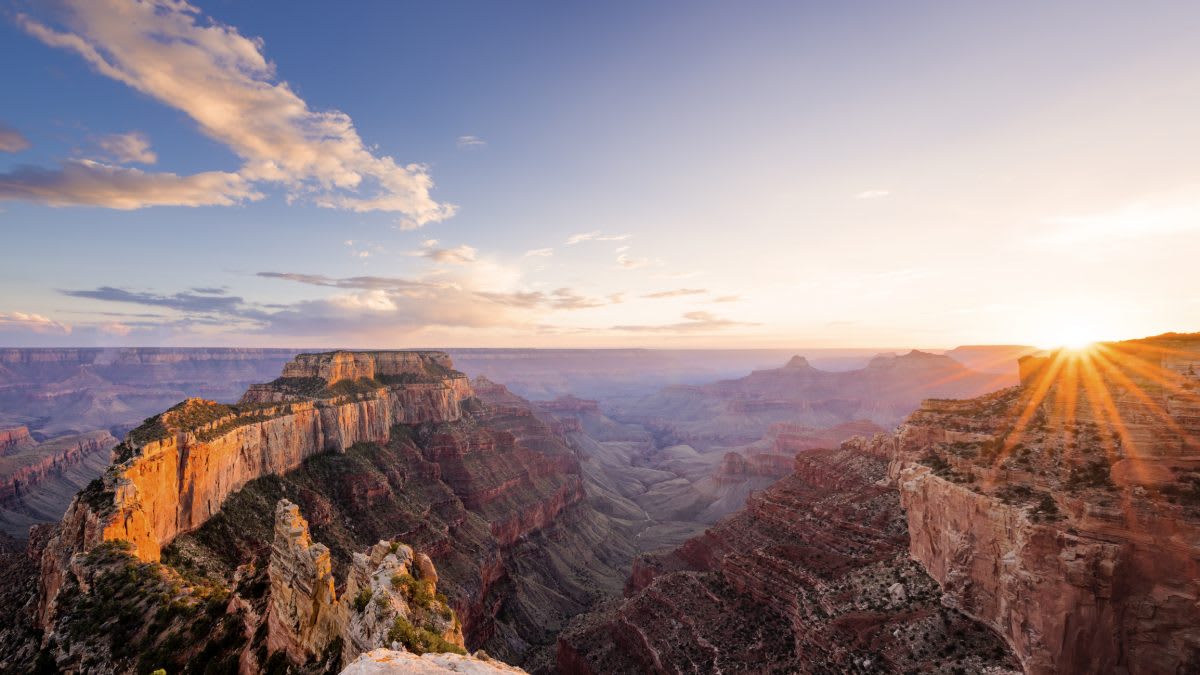 The Grand Canyon's rustic and less populated North rim is home to abundant wildlife, hiking trails, and unparalleled views. At 8,200 feet, it has pleasant summer temperatures and frequent afternoon thunderstorms. Visitors should be prepared for any weather.
5- ASPEN CAMPGROUND: Mogollon Rim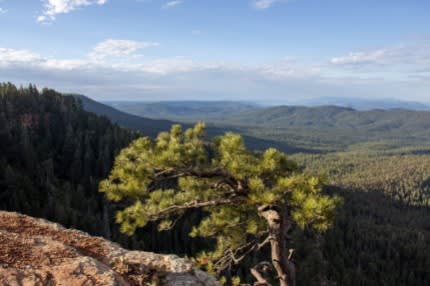 This campground is just one of seven in the Rim Lakes Recreational Area. Its large meadow and wooded areas offer plenty of wildlife viewing. Located a couple of minutes from Woods Canyon Lake where you can fish or rent kayaks or paddleboards.
6- HAWLEY LAKE: Pinetop-Lakeside
Located in the White Mountains in Eastern Arizona, this campground is surrounded by lofty mountain peaks covered with spruce, pine, and aspen. The 300-acre lake offers mild summer temperatures and has great trout fishing. Enjoy beautiful hiking in the area, too. Located 30 miles southeast of Pinetop-Lakeside.