At RE/MAX Sun Properties, we understand that a stunning view can elevate your dining experience to a whole new level. Nestled in the heart of the Sonoran Desert, Fountain Hills offers not only breathtaking landscapes but also a vibrant culinary scene. If you're looking to enjoy a meal while savoring the picturesque surroundings, here are just some restaurants with the Best Views in Fountain Hills that offer both exceptional cuisine and stunning vistas.
Cielo – Adero
When it comes to dining with a view,
Cielo
Restaurant at Adero Resort is one of the top choices. Perched high above Fountain Hills, it provides unrivaled views of the McDowell Mountains and the Valley below. Whether you opt for indoor or outdoor seating, you'll be treated to a visual feast alongside a menu featuring American dishes with a Southwestern twist crafted from locally sourced ingredients.
The Grill- Desert Canyon Golf Course
A local favorite,
The Grill
offers a recently remodeled patio paired with breathtaking desert views overlooking the course. This restaurant boasts an outdoor patio where you can dine while gazing at the famous Fountain Hills fountain and the majestic Four Peaks mountain range. Their menu is hearty American fare, including mouthwatering steaks, burgers, and taco Tuesday and Friday Fry.
Euro Pizza Café
For a more casual but equally enjoyable dining experience, Euro Pizza Café offers a delightful blend of Italian cuisine and Fountain Hills' natural beauty. Their outdoor seating area creates a relaxed ambiance where you can relish wood-fired pizzas, fresh pasta, and a variety of Mediterranean-inspired dishes while taking in the scenic desert landscape. And you can't beat a "front row seat" to the world-famous Fountain which goes off on the hour each hour every day.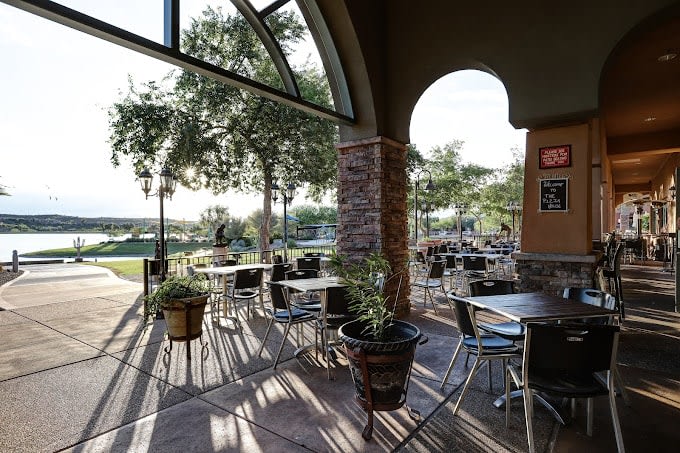 Wicked Six – SunRidge Canyon Golf Club
If you're seeking an upscale dining experience with unparalleled desert views, Wicked Six at SunRidge Canyon Golf Club is a perfect choice. The restaurant's patio overlooks the golf course and the rugged desert terrain, setting the stage for a tranquil meal. On the menu, you'll find a fusion of contemporary American dishes and Southwestern flavors, all prepared with precision and care. Friday evening at sunset throughout the season for a LIVE Bagpipe performance at the fire pit. The performance lasts around 10-15 minutes, be sure to arrive early as seats fill up quickly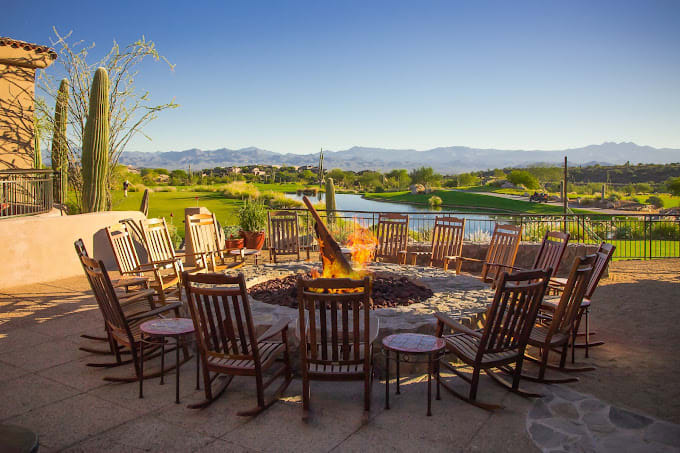 All-American Sports Grill
When you're in the mood for a relaxed atmosphere, great pub-style fare, and sports on the big screen, the
All-American Sports Grill
delivers. Located in the heart of Fountain Hills on the Ave of the Fountains, this sports bar offers a spacious outdoor patio with mountain views. It's an ideal spot to enjoy classic American dishes like burgers, wings, and sandwiches while soaking up the Fountain Park views.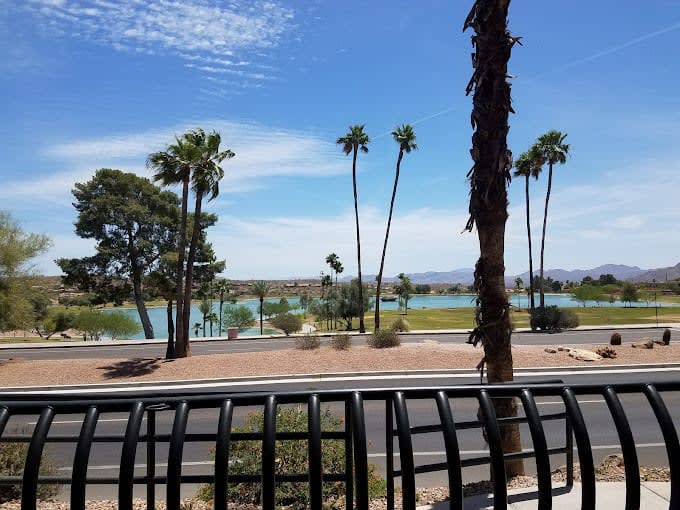 Whether you're a longtime resident or considering a move to Fountain Hills, these restaurants offer not only a taste of the local culinary scene but also a chance to immerse yourself in the stunning landscapes that make this area unique. Make sure to make reservations in advance, especially during peak dining times, to secure the best seats and fully appreciate the breathtaking surroundings while indulging in delicious cuisine.