Leaving the stresses of daily life and pedaling away without a care in the world. Whether it's on your local biking trails or high in desert mountains miles from civilization. There's little that can beat the beautiful simplicity of a bike ride. Whether you're a cycling newbie or an experienced rider, cycling offers many different mental and physical health benefits. Outdoor activities in nature are proven to lower your blood pressure so ditch the Pelton and hit the local biking trails this year.
Mountain biking is one of the top activities of choice at nearby McDowell Mountain Regional Park. With over 40 miles of trails ranging from easy to strenuous, there is something to suit all riding abilities. There is even a Technical Loop for expert riders to sharpen their skills. The
McDowell Sonoran Conservancy
offers several free guided rides each month from beginner to advanced and women-only rides.
Adero Canyon Trailhead in Fountain Hills via Andrew/Kinsey Trail junction will take you up and over the McDowells. Approximately 9 miles and a 2,287 elevation gain with some rocky sections will lead you back to Lost Dog Wash on the Scottsdale side. The Adero trailhead also connects to the north to McDowell Mt. Regional Park via the Sonoran Trails a slightly easier ride with panoramic views of the 4 Peaks, Dixie Mine, and weavers needle in the distance.
Paved Path More Your Speed
For those who prefer paved pathways, the Valley of the Sun offers options, such as the nearby Indian Bend Wash Greenbelt in Scottsdale and the Rio Salado Pathway in Mesa.
The Indian Bend Wash Greenbelt (and its extensions both north and south) is an oasis of parks, lakes, paths, and golf courses that runs through the heart of Scottsdale. It is rated among the top urban "green spaces" in Arizona. Riders can park near Jade Palace across from the hospital on Shea and ride to Tempe Town Lake.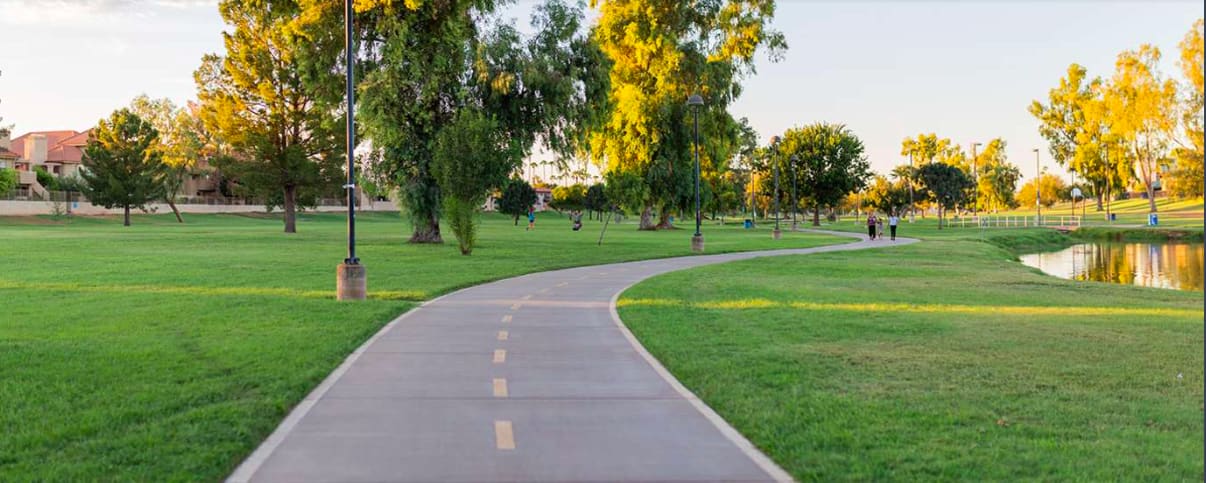 The Rio Salado Pathway connects to several other bike paths that can take riders as far as Chandler Heights, Phoenix, and Scottsdale. The Pathway follows Riverview Park near the Loop 101 and Loop 202 interchange. Riders can get started from the Sloan Park parking lot and head west until the trail ends near the airport or veer onto other connecting paths for a longer ride.
If you're looking to ease back into biking this year or need a little help getting up all the hills here in town. Try renting an electric-assist mountain bike from McDowell Mountain Cycles for the Day and you may just find your next passion.
McDowell Mountain Cycles
Fountain Hills Bikes