We have all had a moment of panic after twisting an ankle playing pickleball or maybe a dreaded positive covid test. The good news is that we have choices with two new medical facilities here in Fountain Hills giving more options for Primary care, Urgent Care, and an Emergency Room.
Honor Heath and Fountain Hills Medical Center

HonorHealth Urgent Care and Primary Care
HonorHealth has both Urgent care and Primary care offices located at 16716 E. Palisades Blvd.
HonorHealth Urgent care: The new location includes 10,000 square feet of office space including 14 exam rooms, an X-ray room, a lab draw room, and a point-of-care room for minor procedures. Hours of operation 7 days a week, from 7 a.m. to 7 p.m.
The Fountain Hills Honor Health Primary Care team offers family medicine and preventive health services to adults ages 18 years and older. The primary care facility includes an on-site laboratory and offers services in blood pressure management, pulmonary function testing, and diabetes management. They also offer well-woman exams, Medicare annual wellness visits, adult physical exams, and more.
HonorHealth Medical Group Primary Care Hours are Monday through Friday, 7 a.m. to 5 p.m. Learn more about Honors Health at
www.honorhealth.com.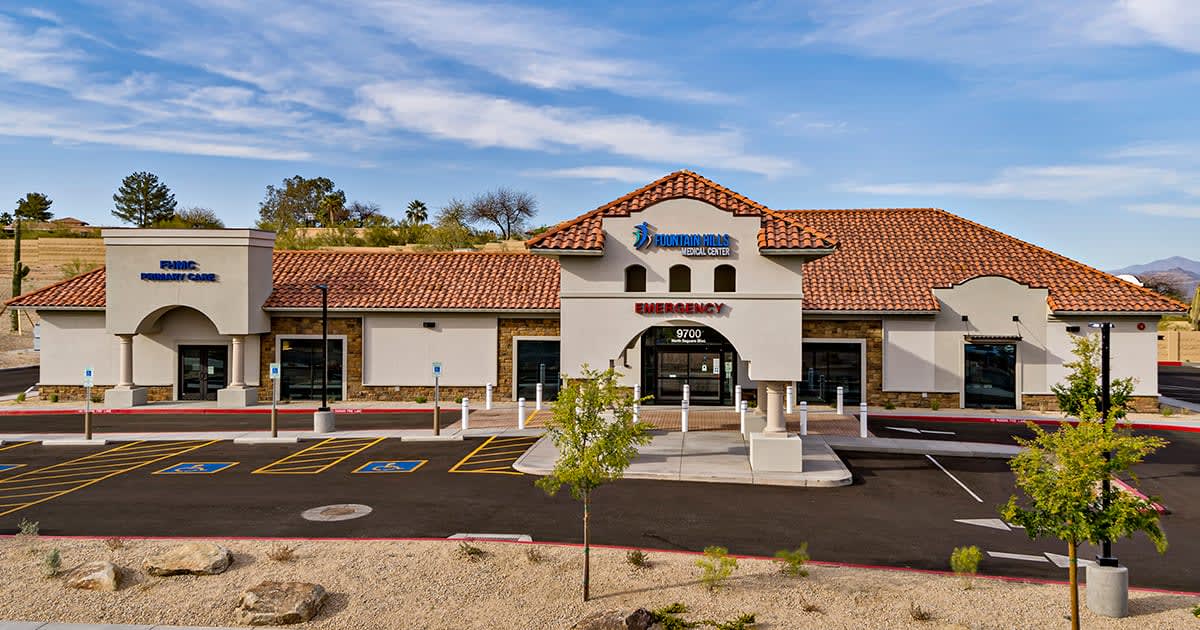 Fountain Hills Medical Center ER and Primary Care
The Fountain Hills Medical Center is designed to meet the emergency and primary care needs of Fountain Hills, Rio Verde, Fort McDowell, and surrounding areas, to provide outstanding patient care to the local community vs driving into Scottsdale. Located at 9700 N Saguaro Blvd, Fountain Hills, AZ 85268.
The full-service freestanding Emergency Department will be open 24 hours a day, 365 days a year. The ER is staffed by board-certified physicians and ER-trained nurses, with the goal being to see patients promptly and efficiently.
Primary Care/Walk-in Clinic is open Monday through Friday from 8 a.m. to 5 p.m.
Specializing in:
Internal Medicine and Chronic Care Management
Telemedicine
Medicare Preventive services
Home Visits (for disabled Patients)
Walk-in/Urgent Care for all ages
Imaging Services (Ultrasound, CT, Xray)
Lab Services (Moderate Complexity and CLIA Waived tests)
IV infusion (outpatient antibiotic therapy and nutritional therapy)
Nutrition and Weight Management (with programs to address metabolic syndrome and diabetes)
IV Nutritional Therapy in nutritional deficiencies, chronic fatigue, cancer, neurodegenerative disorders, and more)
Detoxification
Lifestyle medicine and modification programs
Adrenal and Thyroid Support
Cardiac Wellness