Your home might be beautiful. Maybe it is immaculate, stylishly appointed, and highly upgraded with the finest materials and features. Yet unless you are one in a thousand, it is not "staged'. Staging is intended for two audiences: the camera and the potential buyers.
Let your home speak to buyers. Your home speaks to you, but what is it saying to your potential buyer? Our homes are personal, yet how we live is not how we sell. Our homes represent who we are. The goal of staging is to make the home speak to everyone else in a compelling and positive way.
The personal photos, the too-tall centerpiece, the overstuffed China cabinet, and the bookcase filled with Arizona Highway magazines – these are all treasures to be sure, but they serve only to sidetrack a buyer from the task at hand.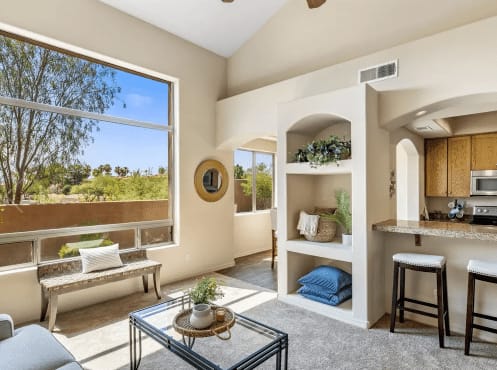 Clutter may suggest your home doesn't measure up! Clutter is the perpetrator of distraction. More importantly, though, clutter may be sending a message that you don't have enough space.
HERE ARE A FEW TIPS FOR WHAT TO DO BEFORE THE STAGING PROCESS BEGINS
De-clutter. De-personalize the space and remove unnecessary items and furniture to make the home feel larger and cleaner.
Relax the bedroom. Make this space feel serene and decluttered. Remove unnecessary items from the closets to make them feel larger.
Bathroom spa. Place toiletries out of sight and learn to use baskets for your daily needs so they can be neatly tucked away each morning.
Finishing touches. Proper lighting, neutral paint tones and freshened cabinet faces improve the look of your home so that buyers feel like it is move-in ready.
The reality is, the moment you commit to marketing your home for sale, you need to commit to transforming your home into a place that potential buyers can easily picture as their home. Let us help you "emotionally detach" and get the process of selling your home underway.
HERE ARE SOME TOP REASONS TO STAGE YOUR HOME, ACCORDING TO THE HOME BUYING INSTITUTE
Staging increases the likelihood of a sale.
Staging gives the impression of a well-maintained home.
You get a head start on packing!
Staging helps you justify your asking price.
Staging makes the house seem larger…really!
Suddenly, every room has a purpose. (Buyers should never have to guess the purpose of a room!)
Staging helps buyers see themselves in a home.
Staging puts your house above the competition.
Buyers will have a favorable first impression.
You get the buyer's agent on your side. (It makes their life easier!)
A "Must-See" home will bring in more buyers.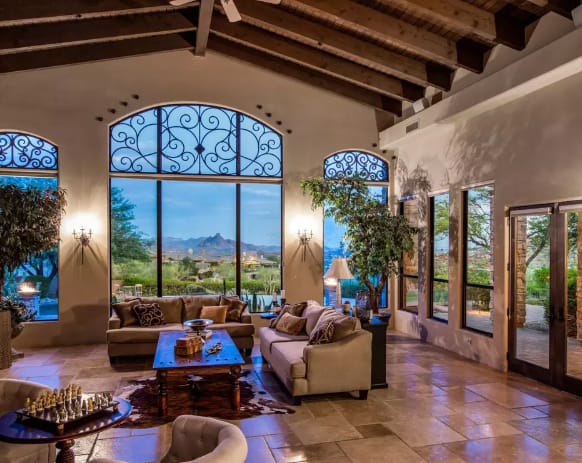 Staging is not a do-it-yourself sport. Our stagers can often work with what you have, rearranging and reallocating all your belongings, to present the property in its best light. Often this means reallocating some of those belongings to the garage, so please be understanding!
Only a third-party specialist can bring the neutrality and objectivity needed to accomplish the goal. Your daily routine will be turned, at least temporarily, on its head, but if selling your home in the shortest amount of time and for the most money is your goal, it is necessary!
THE SONORAN HOME TEAM PROVIDES EVERY LEVEL OF STAGING NECESSARY TO GET YOUR HOME SOLD
Whether it's just some rearranging and depersonalizing that is necessary, or whether your home is vacant and requires complete staging, we have what you need. Our experts can help you create an exceptional viewing experience to get your home sold. So, let us help you create the "buzz" you need to sell your home quickly.
For more information about the staging services we offer our clients, call us at 480-837-1331.