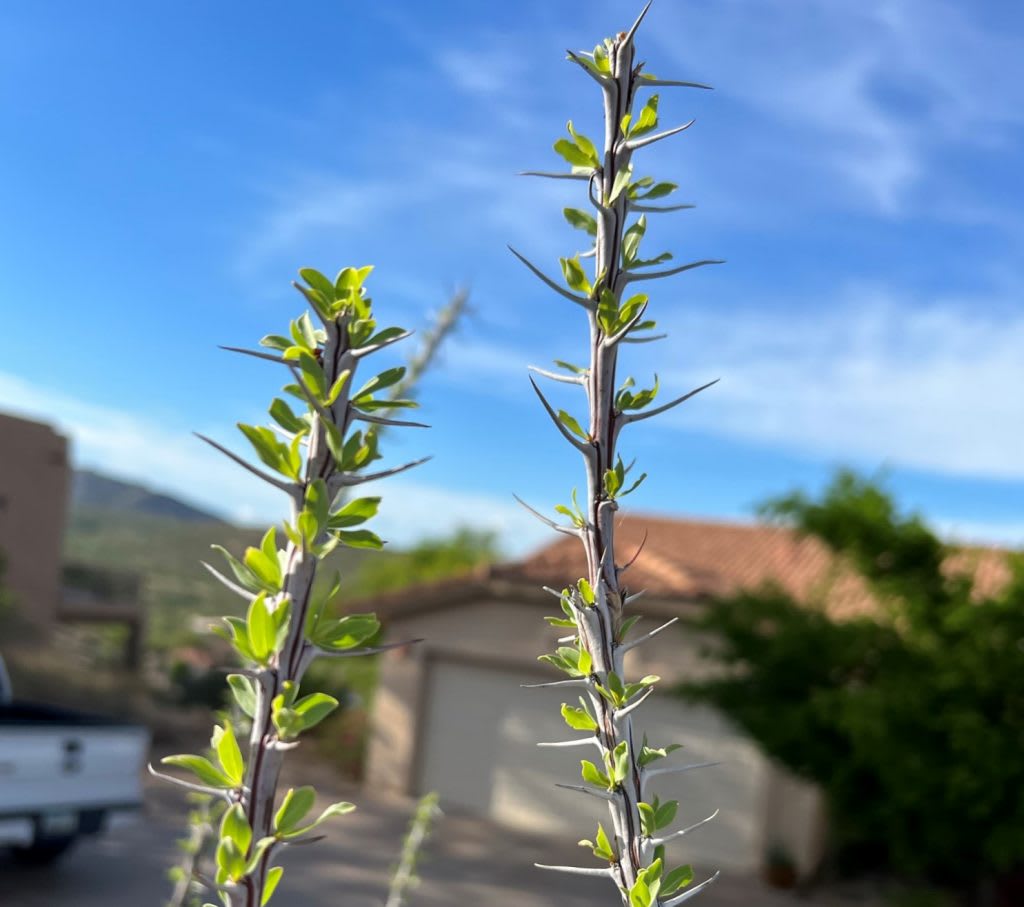 Ocotillos are great for xeriscape, developing leaves after significant rains.
Just because you live in the desert doesn't mean you have to settle for a barren, rocky yard. A thoughtfully planned xeriscape can bring layers of visual beauty to your landscape.
Xeriscape is a landscape design method that reduces or eliminates the need for watering, which conserves our drinkable water. Plants that thrive primarily on what water the natural climate provides come in so many varieties and uses that you will not be limited on choices.
IT'S IMPORTANT TO CHOOSE PLANTS AND TREES THAT ARE APPROPRIATE FOR YOUR CLIMATE. NATIVE PLANTS ARE A LOGICALLY GREAT CHOICE. THERE ARE TWO LOCATIONS IN FOUNTAIN HILLS WHERE YOU CAN GET IDEAS FOR YOUR XERISCAPE:
The
Low Water Demonstration Garden
at Fountain Park is a project of the
Greening of Downtown
committee. It was designed to show residents examples of desert landscape plants that are nearly maintenance-free.
The
Fountain Hills Desert Botanical Garden
, founded in 1975 by Jane Haynes, is an 8-acre wildlife preserve and garden right along Fountain Hills Boulevard. In 2006, the Town restored the original garden trail as an educational and hiking destination. Twenty-nine Sonoran Desert plants are identified along the half-mile trail, giving visitors an idea of the kind of native plants they can use in their own xeriscape landscaping.
Here are some landscaping trees and plants to get you started:
TREES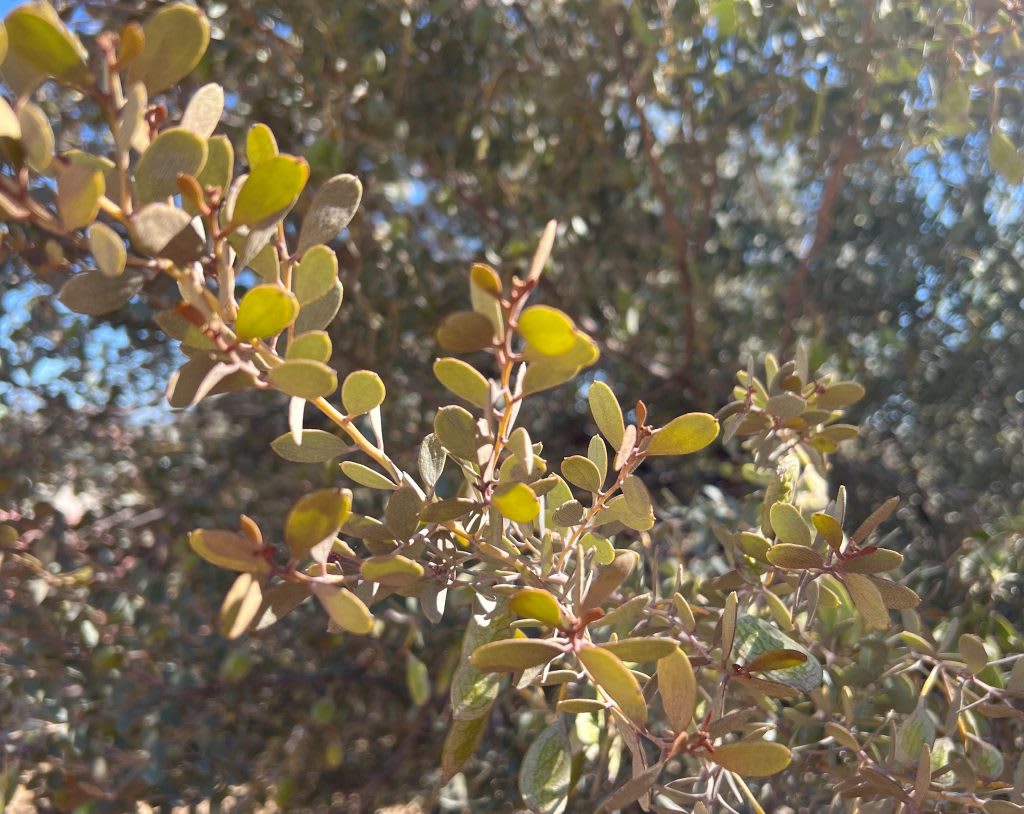 The leatherleaf tree is a great option for a dense, low-water tree.
The most common desert trees you'll find are mesquite, palo verde (our state tree), acacia, olive, and palm. There are also beautiful flowering trees to consider, such as the Texas mountain laurel with purple flowers, silk floss with pink flowers, and anacacho orchid with white or pink flowers. If you want to enjoy the beauty of fall leaves each year, the Chinese pistache's leaves will turn orange and drop in the cooler weather.
SHRUBS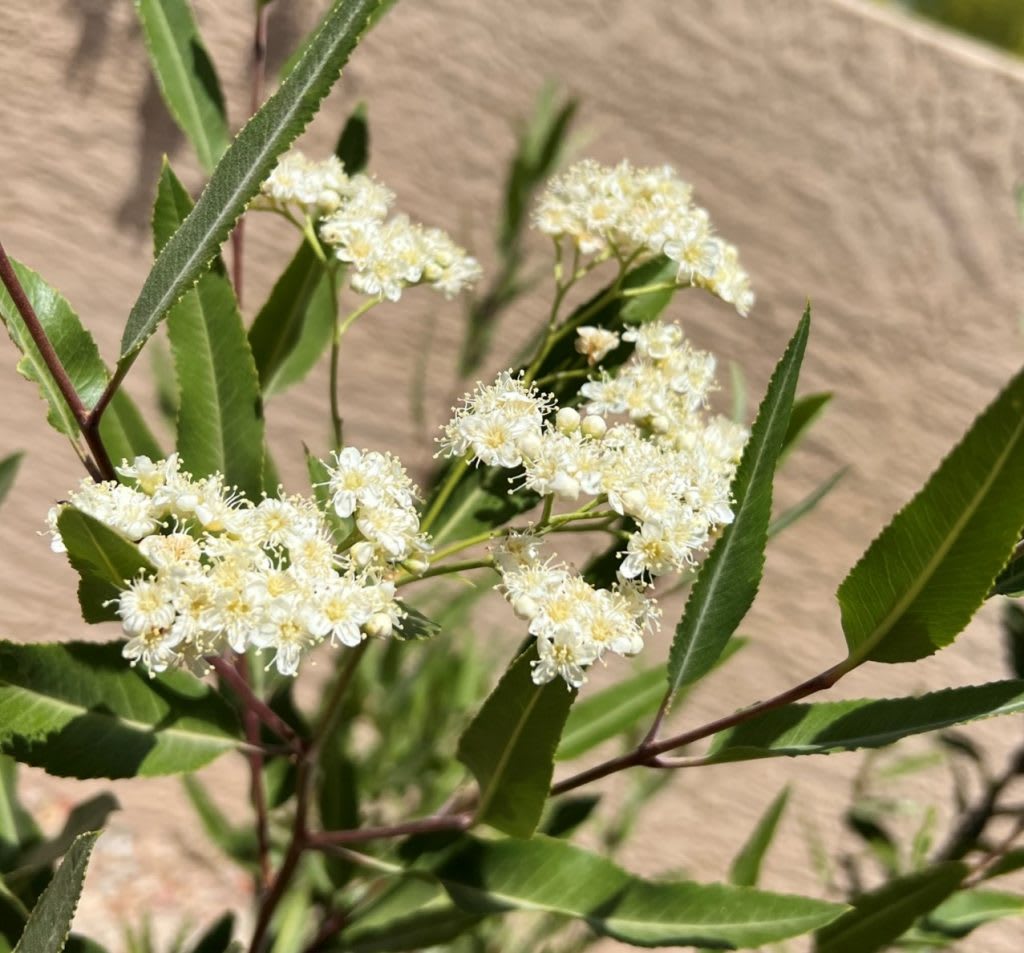 The Arizona Rosewood is a great native bush that can grow large and survive on little water after being established.
Most of our shrubs produce thick blossoms at various times of the year, adding a gorgeous splash of color to your landscape. These include Baja fairy duster, honeysuckle varieties, bush dalea, Chihuahuan or Texas sage, green feathery senna, hop bush, bird of paradise varieties, oleanders (which can be bushes, hedges, or trees), and violet Silverleaf.
Don't forget to add a creosote bush. They are at the heart of that extraordinary smell when it rains in the desert. The tiny beads of oil on their leaves release a glorious scent when they encounter water.
VINES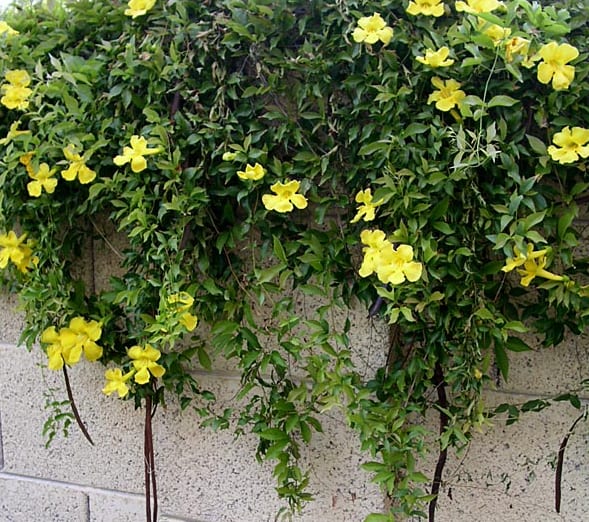 Cat Claw vines are known for growing large and quickly, finding water wherever they can.
To add some fun texture to your xeriscape, add a vine or two. Consider bougainvillea, cat claw, pink trumpet, primrose jasmine, yellow orchid, etc. Each of these has unique flowers at various times of the year for a pop of color.
CACTUS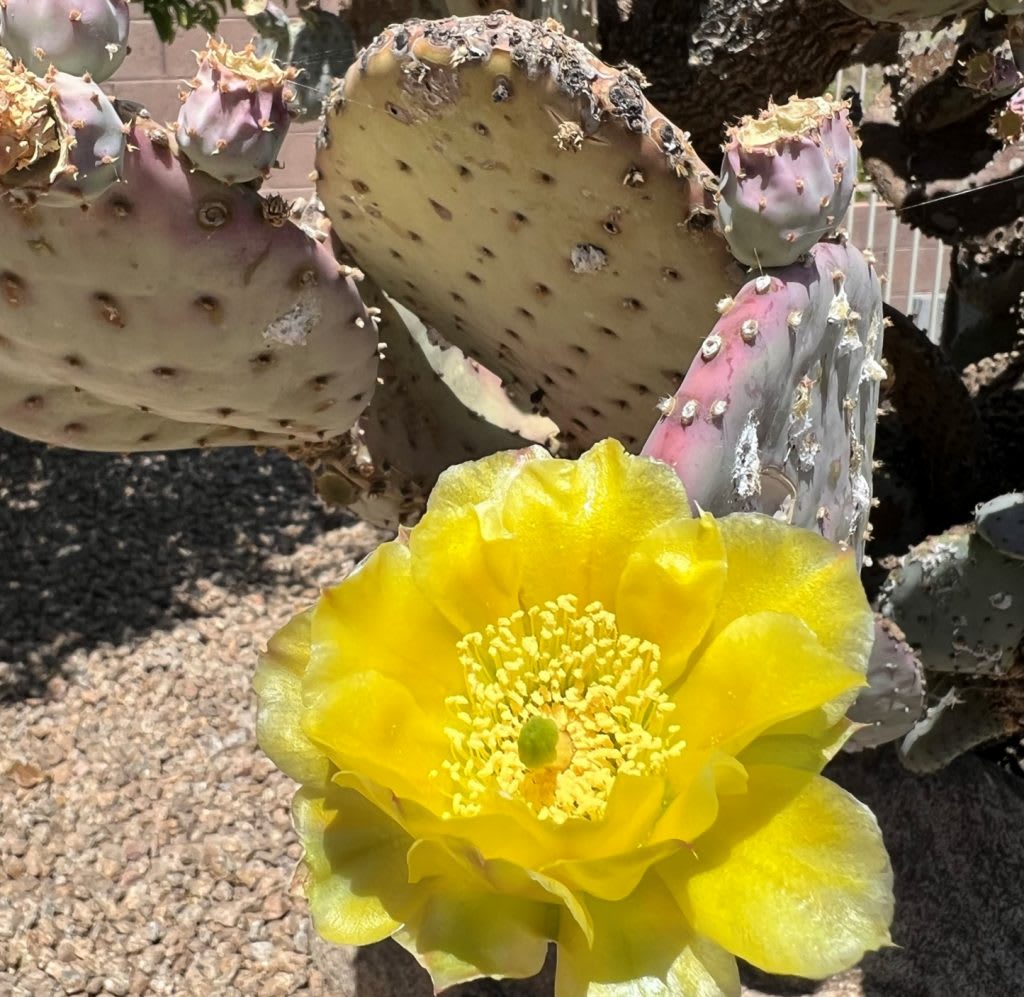 This Purple (Santa Rita) Prickly Pear needs very little water and blooms a beautiful yellow during the late spring and summer before developing edible fruits.
There are so many varieties to choose from, but the Argentine giant, prickly pear varieties, barrel cactus varieties, Mexican fencepost, and totem pole are great cacti to get you started with your design.
SUCCULENTS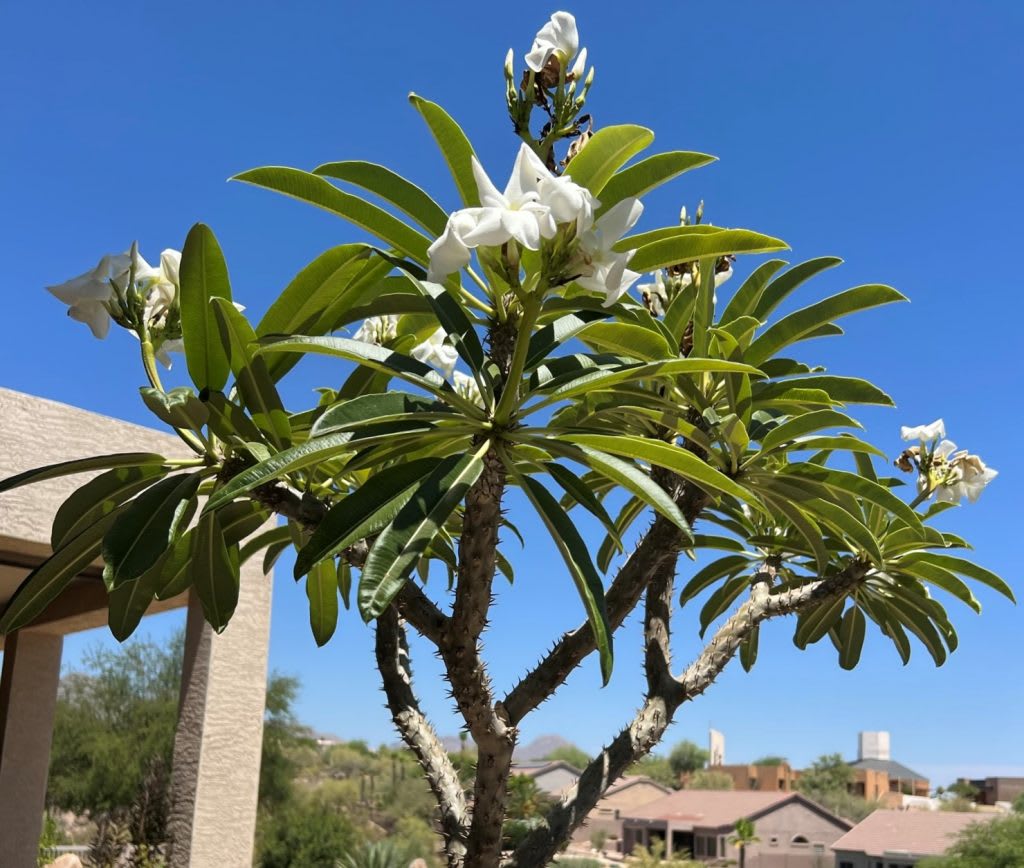 Madagascar Palms are great succulents that prefer very little water. They need shade when young but eventually can grow to the size pictured and beyond.
Succulents contribute something of an ornamental effect to your yard. Some of the favorites are yucca varieties, aloe varieties, lechuguilla verde, mescal ceniza, and agave varieties.
ANNUALS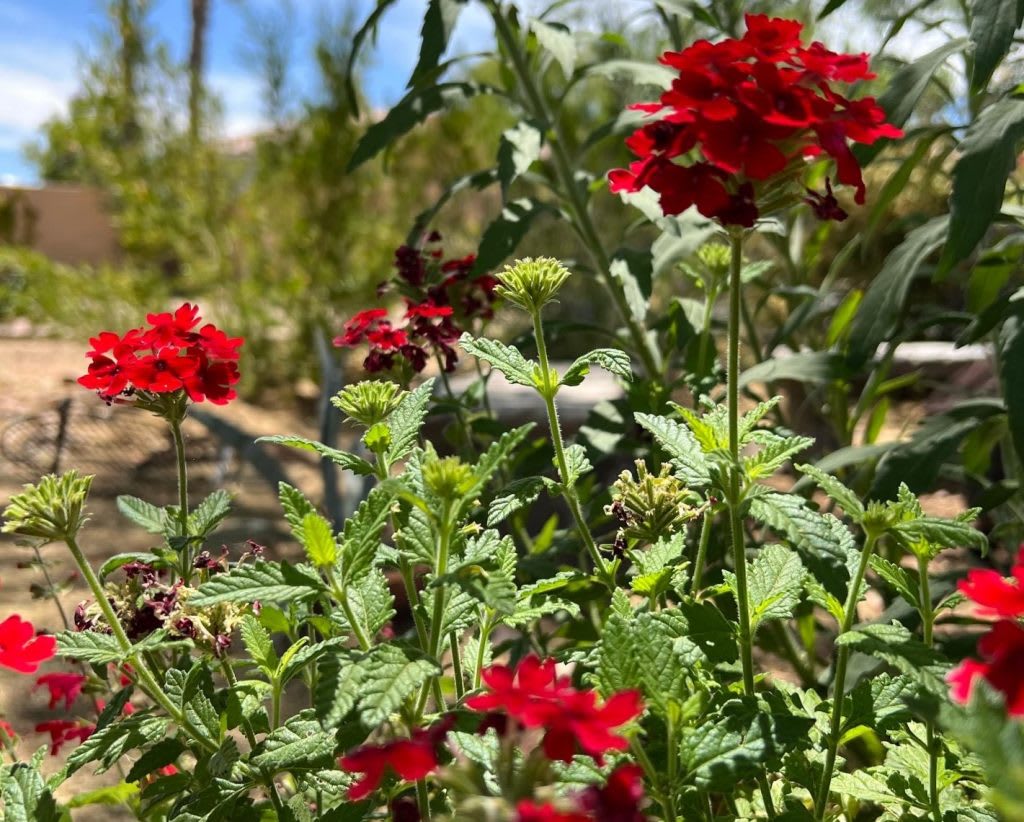 Red Verbenas typically last until the hottest parts of the summer.
One of the things most people love about the desert annuals is the way they soften the features of an otherwise prickly landscape. Instead of chasing "poppy blooms" for your Instagram feed, you can grow them in your own yard. Throw some beautiful lupine in for good measure. These are short-lived, so they can be scattered across your yard for a short-season burst of color. Verbena is a popular annual with a variety of blossom colors available. The plant remains once the flowers are gone for the season.
Whatever you choose for your xeriscape plan, remember to plant trees no closer than 10 feet from your home to protect your foundation. Also, keep in mind that plants continue to grow and can get overcrowded if planted too close together when young.
A little maintenance will be in order from time to time, but your xeriscape will save you time and money in the end.